It might not be one of the best movies of all time. But Enid is a superhero like no other. So this is how Ghost World's rebellious protagonist became one of cinema's great non-conformists.
Not all heroes wear capes, or so the social media idiom tells us. While the multiplex seems permanently stuffed with the chiselled demigods of Marvel and DC, occasionally cinema offers up an icon for a different type of audience. In 2001, Terry Zwigoff's Ghost World presented just such a hero – Enid Coleslaw, played by Thora Birch. Her uniform is interchangeable (although it does include a mask), and rather than fighting injustice she fights life's expectations. The combination of strong source material and a touchingly authentic performance made Enid the outsider's outsider. The patron saint of the culturally dispossessed.
The film, adapted from Daniel Clowes' graphic novel, begins with a graduation. Our sardonic heroes, Enid and Rebecca (Scarlett Johansson, now in another star level), find themselves caught in the nowhere land between high school and figuring out your path in life. Appalled by the all-American cookie cutter teens that surround them, they look to forge their way into adulthood while retaining their sanity. However, unlike Rebecca, who has a disdain for people but acknowledges the need to integrate, Enid's journey is one of near-total rejection.
She obsesses over the obscure, whether it's by following diners she believes to be Satanists, or her fascination with Seymour (Steve Buscemi who we can follow on Where You Watch in Lean on Peate, The Death of Stalin and Nancy), the lonely loser looking for love. These preoccupations are a way of delaying the inevitable – getting an apartment with Rebecca, getting a job, passing her summer school art class. She is trying to bludgeon her impending maturity into remission. Enid's mission requires almost constant reinvention. Her offbeat ensembles include a 70s punk look, a sailor outfit, a fetish mask, and a striking green hair/blue Jurassic Park shirt combination. The slightest negative feedback, or sense that she may be blending in, and everything changes once again. Like a reverse chameleon, she changes in order to stand out from her environment. She mocks those who show her the slightest bit of interest, and scraps for the attention of those who don't.
Watching her becomes the perfect antidote to life's small absurdities. Those who have worn the name tags and forced smiles of customer service will revel in the vicarious thrills of her disastrous shift in a cinema concession stand, while Birch's unspoken reactions to her off the wall art teacher (llleana Douglas) will strike a chord with those who have ever suspected they may know more than those in authority.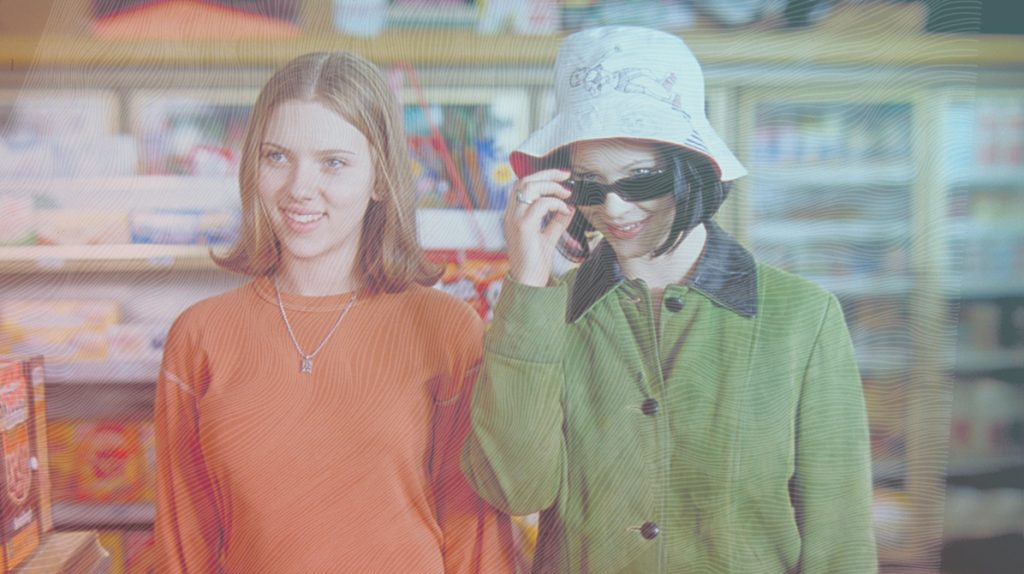 There is also a downside to being different. It's not the mocking tones of the record store snobs she clashes with, it's the increasing certainty that her bucking against responsibility will leave her abandoned. Eventually, Rebecca grows tired of waiting and follows her own path, while Enid's experiments with Seymour lead to catastrophe, costing him everything. Her attempts to shelter herself from the phoniness of life causes collateral damage, with rebellion coming hand-in-hand with isolation.
The legacy of Enid's complicated on-screen journey is one she would probably be appalled by. Both the film and the novel have earned a cult following, with Enid's situation striking a chord with so many who find themselves in a similar place, at a similar time. It's considered by many to be one of the greatest comic book movie adaptations, sticking out proudly among the corporate juggernauts. As we moved from the grungy, self-made style of '90s into the preened, phoney 'reality' culture that pervades today, angry swipe against the system feels all the more significant. It's also fitting that such an inspirational outsider would be played by an actor who herself would find herself at odds with Hollywood's norms. While Johansson ascended to Hollywood's glamorous elite, Birch has yet to replicate the success of her early 2000s performances. It's something she has attributed to not being willing to play the studio game. "I tried to walk a fine line between being alluring and somewhat glamorous but maintain a strong identity and pursue things that were a little more thoughtful" she told The Guardian in 2014. "I guess nobody really wanted women to do that at that time".
We finish with an ambiguous bus ride, unsure whether we are witnessing an end or a beginning for our favourite nonconformist. While we don't know where she's going, we're certain of the inspiration she's left. If you've ever felt different, if your teenage years were a symphony of awkwardness, then Enid is a role model not just to be admired, but celebrated. Meeting all rites of passage with an unimpressed stare, she comes to feel both comforted and stranded by the choices she makes, as the allies she held close eventually fold into what life expected of them. In that sense, Enid is not some glossy ideal of The Cinematic Outsider, but the painful, honest, and hilarious reality.