Indie-like movies from this year's Sundance to look forward to.
Sundance Film Festival used to be a snow globe-like bubble where filmmakers, fans and press could disappear and escape reality. Up in the mountains of Park City, there was a kind of immunity from the news, controversies or whatever else awaited us outside. For a few days in January, we could retreat into theatre spaces, queues and the nearest hotel lobby bar thinking of only the next screening or party. Since its coincidental timing with last year's Women's March,
Sundance
has picked up a sharper political edge. After President Trump's inauguration, #OscarsSoWhite and the undoing of a once-lauded Sundance regular, Harvey Weinstein, this year's programming needed to react. It's a changed festival, one that now includes a slip of paper with every badge spelling out the organization's code of conduct.
That change was reflected in the festival screens around and outside Park City. Instead of opening the festival with something more "traditionally" Sundance, like last year's ultra-violent I Don't Feel at Home in This World Anymore (you can
stream it on Netflix
) or the environmental documentary sequel to An Inconvenient Truth, programmers chose a boundary-pushing drama that directly addresses police violence and everyday brutality.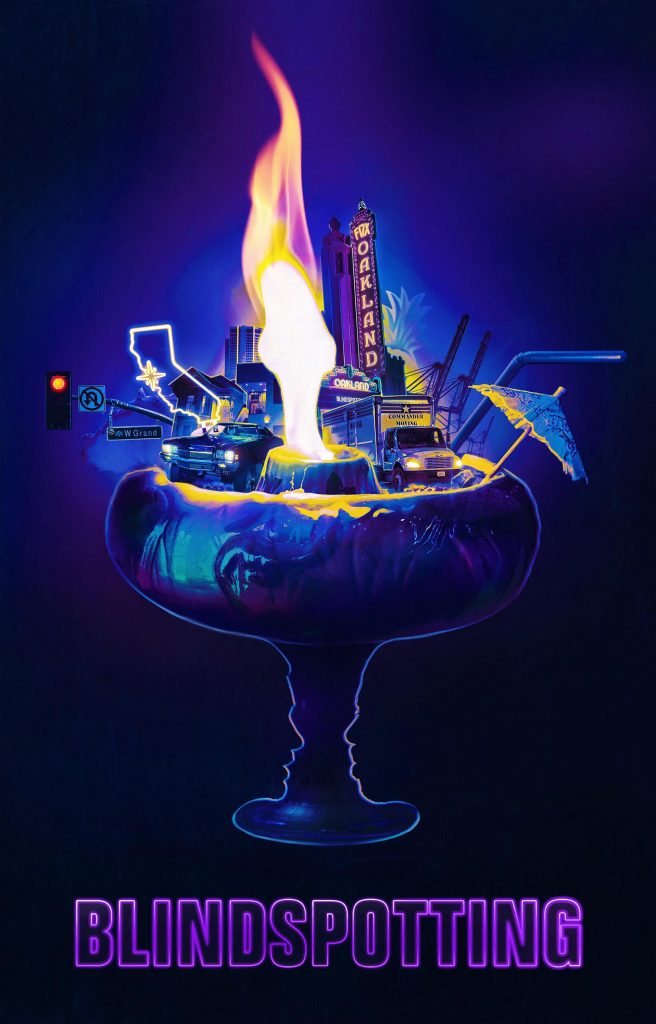 In a star-making role, Daveed Diggs plays a black man days away from probation who witnesses a cop kill an unarmed black man. Despite their long and symbiotic friendship, his white best friend cannot understand the mental trauma Diggs' character has gone through. The rest of Carlos López Estrada's
Blindspotting
explores the complex racial dynamic between the two men and society.
Likewise, Boots Riley's surrealistic social comedy,
Sorry to Bother You
, smartly tackles the exploitation of black bodies, unbridled capitalism, racism and code-switching. Cassius (Lakeith Stanfield) is an unwitting pawn in his own story, manipulated to betray his friends for monetary gains and rewarded at work for sounding more like a white guy. The film deconstructs the layers of his betrayal while simultaneous poking fun at every institution in sight.
The festival has always had an eye for social issues, but something in this year's crop made the personal political again. Another opening night film was Lauren Greenfield's follow up to The Queen of Versailles, Generation Wealth. On the surface, the documentary resembles Kirsten Johnson's introspective look at her life's work, Cameraperson. However, Greenfield focuses her camera on more than just her experience. She uses this retrospective look at her career as a way to explore class, both her own
and her subjects'. This self-examination of our pasts allows us to trace our steps back from a certain point. It's something many of us in the entertainment industry have been doing in regards to sexism and racism.
There were many films that explored this at Sundance as well, like the subjects of Bisbee' 17, who work through the historical trauma of a mass deportation that banished their ancestors' friends, family members and neighbours to the desert. Laura Dern's character in The Tale  is forced to confront memories of her sexual assault and how she's altered them to make sense to who she's become. In
The Miseducation of Cameron Post
, Chloë Grace Moretz's character revisits the moment when she is outed as a lesbian while suffering at a gay conversion camp.
Now that this year's festival is done, the parking lot tents are packed and the volunteers sent home, what will Sundance's programmers and organizers see? The potential to affect change in Hollywood has always been a goal of the festival, but that mission seems so much more urgent now. Even personal documentaries and indie pet projects stand for something more than themselves. Everything feels more important in this new reality. The snow globe is broken, and hopefully won't come back for some time.