Between the cinema and retail release, piracy thrives
There's a reason this site exists. Between the cinema premier and the retail release, there is a gap, often filled with piracy. Bootleg copies of mainstream movies are often quick to be produced, and while early copies are often camera recorded in a cinema, it isn't long before quality versions appear. These copies often stem from web or TV (telecine) streams being ripped and shared as downloadable files or streams.
Frame Rate and Audio
High-quality copies often stem from Korea or Russia, where digital copies are shared early via pay-per-view to avoid piracy. This is something the US and Europe have yet to do, which makes the foreign country copies even more interesting for pirates. The streams are recorded and put online. Initial copies are often rushed, and, thus, suffer from stuttering and frame rate issues. And, if it's a Russian source, the audio is dubbed, forcing the internet community to find audio versions in English to replace the audio.
Below you can follow the release of the highly anticipated movie Alien Covenant.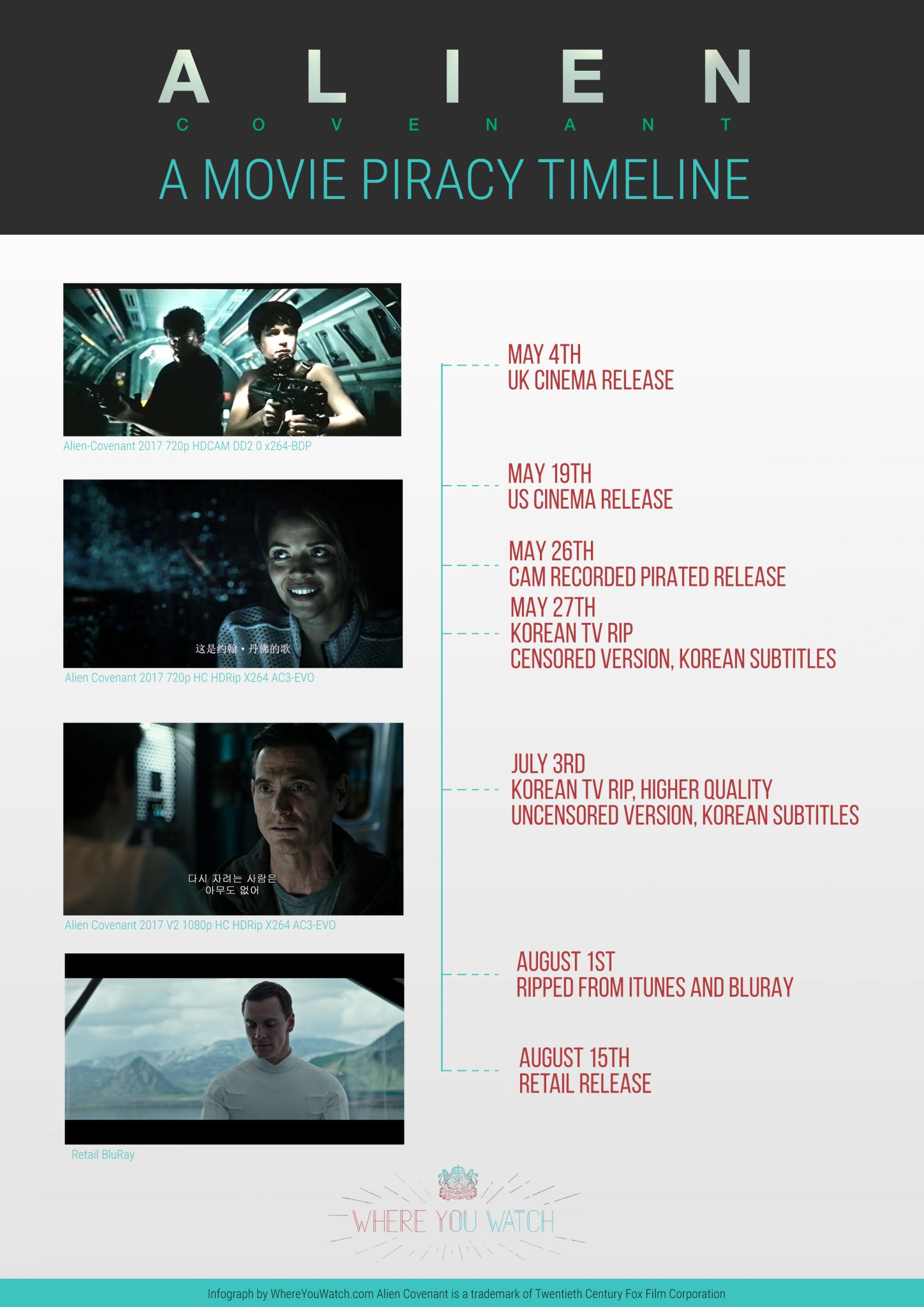 As you can see, the Alien movie quickly generated a high-quality piracy copy from Korea, right after the cinema release in the US. But, as I mentioned, the release suffered from stutter and audio, neither of which were comparable to a standard movie release. It's still going to be difficult for a fan of the previous Alien movies to watch this version.
"You could argue that most people wouldn't notice the difference"
But, more than a month in advance of the retail release, a version, comparable to the final release, surfaced. While it has hardcoded subtitles, and might lack perfect high-fidelity audio and surround sound, it's what most people would find acceptable. You could argue that most people wouldn't notice the difference on their 1080p televisions – apart from the subtitles.
Once the official streams, iTunes and BluRay, get a release, we are treated to a perfect copy, and with bonus content such as deleted scenes. Those bonuses are often left out of the bootleg versions. But it's difficult to argue against the length of time between the pirated, unofficial versions and the proper, official home releases. Often it comes down to access, the moral dilemma of not paying for the movies you view, and the risks you're willing to take.
Patience is a virtue.
Editors note: This post includes screenshots from the movie Alien Covenant, a property owned by Twentieth Century Fox Film Corporation. Where You Watch doesn't own any of these properties.