Here's the exclusive Disney+ titles, and how to stream and download them – Officially or for free
Index
What is Disney plus?
Disney's subscription-based video streaming service known as Disney+ was launched a few months ago on November 12, 2019 in the Netherlands, Canada, and the US. Subscribers in these countries can enjoy and choose from a massive collection of Disney series and movies, such as titles from popular franchises e.g. Lucasfilm, Pixar, Marvel, etc.
Europe and the UK, and pretty much the rest of the world, gets the service on March 31st. Torrent and pirates don't need to wait.
"

Noelle was set for a cinema release – Then moved to Disney+ and released as an exclusive. And in an instant it was ripped and pirated"
Is Disney plus free?
No. The service costs $6.99 a month. On a single subscription, four people can stream at the same time. There are different plans available, from the basic Disney+ packages to Hulu ESPN+ Bundle to The Verizon Deal and more. Disney+ is available on many devices, including Apple devices, Amazon devices, PlayStation 4 and Android-based TVs, Google Android phones and tablets, etc. Offline viewing is also available; you can download your favourite movie, documentary, or show and watch it on up to ten devices. That's pretty impressive. And here are some of the originals available on Disney Plus:
Lady and the Tramp

Noelle

Togo

Timmy Failure: Mistakes Were Made
Upcoming Exclusive Disney+ movies
Secret Society of Second-Born Royals (science fantasy)

Flora & Ulysses (Children's novel)

Godmothered (Live-action version of the Disney classic)

Safety (Drama)
There's also some talk about Mulan coming to the streaming service due to the Coronavirus, ahead of its cinema release. However, some are doubtful. But there's been an exception, Noelle was set for a cinema release – Then moved to Disney+ as an exclusive. And in an instant it was ripped and pirated.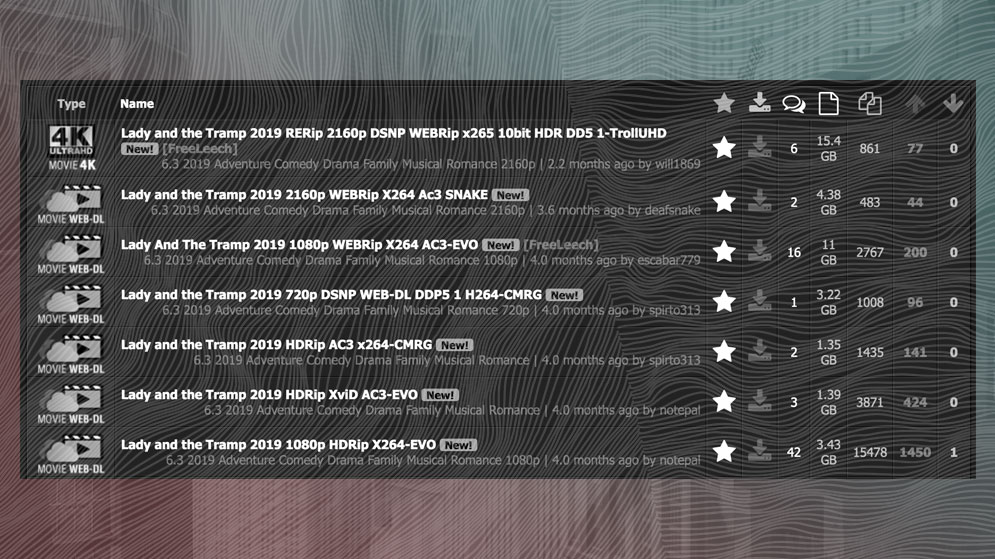 Pirated torrent versions of the Lady And The Tramp (2019)
The Mandalorian Was the First To Drive Up Piracy
Torrent versions of Disney+ titles were immediately set to go wild when Star War's Mandalorian tv-show was both an exclusive title, and not being launched worldwide. Reportedly it took only three hours for the first episode to get pirated.
The reason behind it is that the approaches taken by Disney, e.g. launching Disney+ in limited areas, etc., forced the fans to turn back to piracy. But it's also due to the flood of different streaming services we now have. Apple, Netflix, Amazon, HBO – It's difficult for our wallet to keep up. Even with Disney's aggressive price point.
Can I download Disney films and shows via an app?
If you have a Disney+ subscription, downloading movies and show for offline viewing isn't a problem. The official app has a download feature, by simply pressing a download button next to a title. With a solid Wi-fi connection it's being stored on your device. And surprisingly it works for all titles, the complete library.
Can I download Disney+ films and shows for free?
Yes. You can download Disney+ titles using torrents, magnet links or pirated streaming sites, while it's illegal. But it's not particularly difficult. Sites like Pirate bay, 1337x and KickassTorrents are currently listing almost the complete library as torrents. All for free.
There are even illegal streaming services which provides  Netflix, HBO and Disney+ into one. Plus movies. Again, all for free.
The most popular pirate streaming apps are
Stremio

Popcorn Time

Butter Project

WebTorrent
All of the above works similar to pirate radio stations back in the day. In theory you get everything for free – At a price. The apps are known to be somewhat unreliable and not always working as intended. Plus the fact that it is illegal. But as always, it's difficult to say no to "free".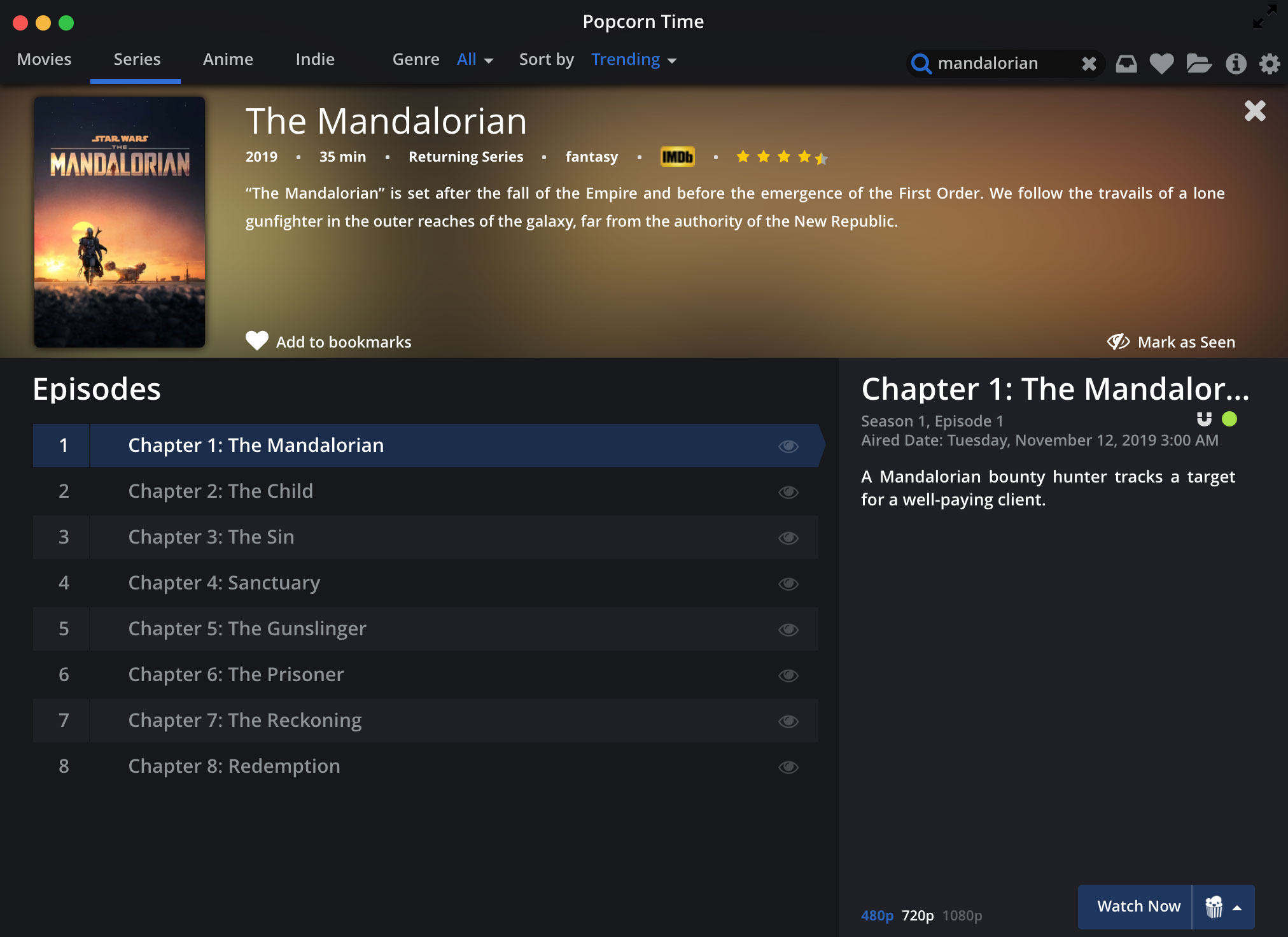 A screenshot of the app Popcorn Time streaming a pirated version of The Mandalorian 
If you want to get alerted when a Disney title has been released, onto their service or as a pirated torrent, you can sign up for a Where You Watch account.