Radarr is more than just a tool to download movies. If you're excited about a movie that's due to be released, Radarr automatically downloads it to you the moment it appears online. Here's how it works and how to set it up
With Where You Watch you can receive an email once a movie has been seen online. The Windows and MacOS app Radarr does the same, but downloads the movie for you. While it's not flawless, and tricky to install, it's an impressive app. And while it takes some time to set up, there's a helpful community on Reddit and our quick installation guide below.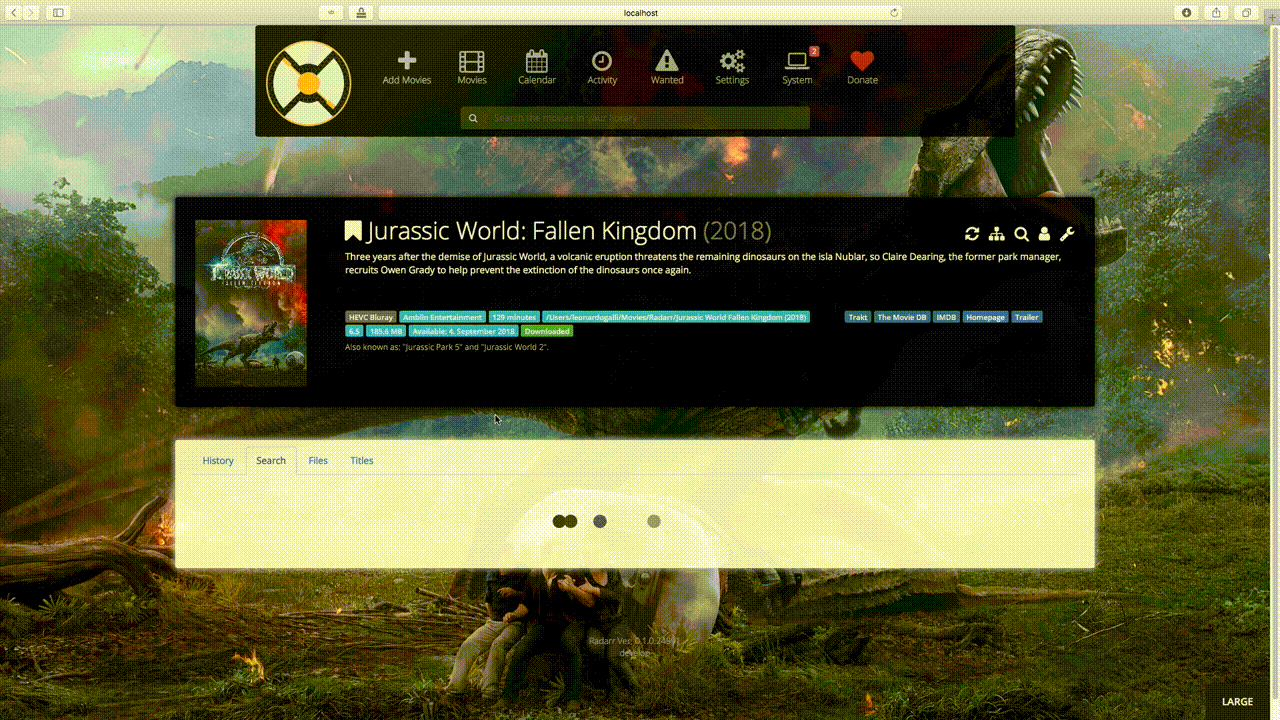 Radarr will
Scan for movie torrents

Find the content

Rename it

Put it into folders for you
And it does this, 24/7.
It works like this. You tell Radarr what you want to watch or find, and it will scan torrents, find the content, rename it, and put it into folders for you. It allows you to download movies automatically. These movies will be in the best available quality and will be downloaded as soon as they are available. This means you can simply tell Radarr what you want and then forget about it. If you're excited about a movie that's due to be released in a few weeks, you can instruct Radarr to deliver it to you the moment it appears online. It's similar to Where You Watch where it alerts you when a movie is out online, and while it lacks our community notes and relies on fewer sites, it's incredibly handy. It's also incredibly illegal of course.
Download Radarr
Download Radarr for Windows, MacOS and more, here.
Radarr is actually an independent fork of Sonarr. Meaning that it's based on the software Sonarr. They work the same way, only Radarr is tailored towards movies while Sonarr is for TV shows.
How do I install Radarr?
See below for the Windows and MacOS guide. For Linux and other platforms, see the official GitHub page. There's also a video guide for the Windows installation.
Is Radarr Difficult to Install and Use?
Setting up Radarr can be tricky, but using it is easy.
Radarr is available to download on Linux, Windows, macOS, and is also a great way to add more functionality to your Plex app. The installation does require several steps which include activities like extracting .zip files, running .exe files as Administrator, and creating folders. The exact installation process will differ depending on which operating system you're using, but the instructions are clear and concise for each. As long as you have some fundamental IT skills you shouldn't encounter problems and the installation process will be straightforward. However, if you're inexperienced at installing custom software then it may take a little longer. If you're struggling, the Radarr community on Reddit is helpful and welcoming to newcomers.
Once Radarr has been set up, using the app is easy. First, you'll tweak your settings so that Radarr will search for downloads that match your preferences. You set the quality of the downloads (720p, 1080p) and format (DVD, WebDL, Bluray), as well as any other preferred qualities.
Alternatives to Radarr
If you're not sold on Radarr, there are several other options for you to pick from. Let's take a look.
Sonarr – A multi-platform app that allows you to search, download and manage your favorite TV shows.

Couchpotato – Very similar to Radarr with some notable user interface differences.

Popcorn Time – A multi-platform BitTorrent client that has an integrated media player. You can download and watch movies without leaving the app!
Radarr, Sonarr, Couchpotato, and Popcorn Time provide unrestricted access to the movies and TV shows hosted on the web. More choice is great, but these apps do require you to engage in piracy. If you want to avoid going down the piracy route, then the more traditional content streaming services like Netflix, Amazon Prime, and Hulu will be a better fit for you.